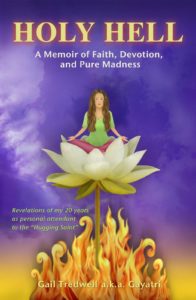 TESTIMONY OF THE 20-YEAR LONG PERSONAL ASSISTANT
Impressions and recommendation
TEMOIGNAGE DE L'ASSISTANTE PERSONNELLE DE 20 ANS
Impressions et recommendations
Back in 2013, when Gail Tredwell came out with her testimony, it sounded like a lonely voice in the vociferous crowd and she was an easy prey to denigration and humiliation.
I always felt I needed to support her testimonial but I didn't feel ready to start with mine. Nine years later, I have fulfilled my wish to be loyal to her voice, loyal to myself while speaking out the truth of our knowledge and our experience, our understanding of our ex-guru and her movement.
I have known Gail for more than forty years, in Tiruvannamalai, from even before we met Amma. Then we lived together with Amma from the very first moments of history. Gail had settled there a few months before me. Later, when I was sent back to the West for teaching, we often talked at length during Amma's visits in Europe, as well as during my annual visits to India. I have followed her development, especially since the moment she experienced growing difficulties reconciling her faith with her actual experience. She needed an ear, a different voice. She confided more and more in me until my separation from the movement. I lost contact a little afterwards, which meant that I did not closely follow her retreat period and the preparation of her escape. It was afterwards, from her island in the middle of the Pacific Ocean, that we reconnected. We have kept in touch ever since and have spoken regularly, particularly of course whenever there was a significant event following her book publication.
When writing her testimony, Gail was not, as she wrote herself, in a process of revenge and reclamation. For her too, respecting herself implied accepting to speak out. This work, I know in my heart and soul, is painful and rigorous. She did a brave job. She had nothing to gain from it – except her personal reconstruction, the healing of her self-esteem, of her self-respect, of her life and its experiences, of her beliefs, of her convictions, of her commitment, of her person as a whole and therefore of her integrity. Doing such work after so many years, and we must pay homage to it for that, did not happen by chance but was the fruit of more than a decade of inner work.
When I read her book, I was touched by its sincerity and candour. Here is a woman who dreamed of being able to serve a female spiritual master, a desire which arose in her while reading the biography of Mā Ānandamayī, the bengali saint, with Didi, her personal assistant. Gail's story is a fairy tale that led her to make her dream come true with Amma. She devoted her breath of life, her physical and mental health, her heart and her body, and even accepted going through various forms of abuse in her striving to be true to her inspiration, struggling against all the difficulties and obstacles in her path, determined to uplift her soul, to serve and to love. All of this, well beyond anything that could be considered reasonable, believing beyond belief, holding on to every fibre of strength and hope that was left in her in the worst of times, remaining perfectly honest and faithful to her ideal, to the one she loved and to those who loved the one she loved. Up until she realised, on the verge of physical, nervous and psychic collapse, that despite her incredible perseverance, offering her life this way no longer made sense because she was effectively only destroying herself. It was indeed towards the end, when she finally distanced herself and needed a retreat, that she realised that even though she continued to love Amma, she was beginning to differentiate between loving her ideal as a teacher and loving her executioner: "My entire world was slowly but surely crumbling to pieces, and yet this fragment of distance made me realize that I still loved her. I loved her even if what I loved was more like the person, I originally believed her to be. This realization added a new element of torment to my growing desire to flee the ashram." (Holy Hell, ch. 22, p. 328)
Gayatri was a model for all of us, even for the earliest disciples, an inspiration, a shining example of dedication, service, love, self-sacrifice while keeping a sharp and solid common sense, a good experience of the human, an indomitable sense of humour and self-mockery, and the self-confidence of a sturdy Australian who could stand up for herself. We, the male members of the first circle of disciples, knew perfectly well what it cost her to serve Amma that closely. Basically, all we felt was respect and sympathy for what she was going through. She had no real support in the face of the systematic mistreatment that her master made her suffer except, of one person, Balu, later Swami Amritasvarupananda, who unfortunately also turned out to be an persecutor of another kind. Unfortunately, her master did not seem to recognise the many signs that her breaking point was imminent. When there was nothing left to save for Gail, and she escaped from her hell, it was a total shock for Amma and those around her. She was inconsolable, so were her spiritual sons. Gail's departure was experienced as an enormous loss which left a gaping void behind her. But it was too late. The damage had been done and accumulated for years, beyond what any normal person could ever bear. Some of the ex-brothers considered her perseverance beyond imaginable and as utterly heroic.
Then came the slander campaign against her, of which I give details in the book in ch. III.6. For twenty years, you let someone serve you personally, more intimate and more confident than your own mother, you let her co-manage the ashram, then from one day to the next, you slander her and make the world believe that she is sick, petty, revengeful and profiteering. Make sense of this if you can!
Amma lost in Gail a key element of her message to the world. The example that Gail represented was beyond all discourses. It is true that she was not free from faults. But whoever is, throw the first stone! In many ways, none of us from the first circle of disciples could ever have come close to her.
Experience more in my book!
And do read hers! The link to Gail's book is in her blog: https://gailtredwell.com/

En 2013, lorsque Gail Tredwell publia son témoignage, ce fut une voix solitaire dans le brouhaha de la foule et elle fut une proie facile au dénigrement et à l'humiliation.
J'ai toujours senti que j'avais besoin d'apporter mon soutien à son témoignage mais je ne me sentais pas prêt à commencer avec le mien. Neuf ans plus tard, j'ai exaucé ce souhait d'être fidèle à sa voix, fidèle à moi-même tout en témoignant sur la vérité de nos connaissances et de notre expérience, sur notre compréhension de notre ex-gourou et de son mouvement.
Je connus Gail depuis plus de quarante ans, ​​à Tiruvannamalaï, avant même de rencontrer Amma. Puis nous vécûmes avec Amma dès les premiers instants de l'histoire. Gail s'installa avec elle quelques mois avant moi. Plus tard, quand je fus renvoyé en Occident pour enseigner, nous parlions souvent longuement lors des visites d'Amma en Europe, ainsi que lors de mes visites annuelles en Inde. J'ai suivi son évolution, surtout depuis le moment où elle éprouva des difficultés croissantes à concilier sa foi avec son expérience effective. Elle avait besoin d'une oreille, d'une voix différente. Elle se confia de plus en plus à moi jusqu'à ma séparation du mouvement. Je perdis contact un peu après, de ce fait, je n'ai pas suivi sa période de retraite et la préparation de son évasion. C'est ensuite, depuis son île au milieu de l'océan Pacifique, que nous reprîmes contact. Nous sommes restés en contact depuis et nous nous sommes parlé régulièrement, en particulier bien sûr chaque fois qu'il y avait un événement important après la publication de son livre.
Lors de la rédaction de son témoignage, Gail n'était pas, comme elle l'a écrit elle-même, dans une démarche de vengeance et de revendication. Pour elle aussi, se respecter impliquait assumer de s'exprimer. Ce travail, je le sais dans mon cœur et mon âme, est douloureux et rigoureux. Elle a fait un travail courageux. Elle n'avait rien à y gagner – sinon sa reconstruction personnelle, la guérison de son estime d'elle-même, de son amour-propre, de sa vie et de ses expériences, de ses croyances, de ses convictions, de son engagement, de sa personne dans son ensemble et donc de son intégrité. Effectuer un tel travail après tant d'années, et nous devons lui rendre hommage pour cela, ne fut pas le fruit du hasard mais celui de plus d'une décennie de travail intérieur.
Quand je lus son livre, je fus touché par sa sincérité et sa franchise. Voici une femme qui rêvait de pouvoir servir un maître spirituel féminin, un désir né en elle en lisant la biographie de Mā Ānandamayī, la sainte bengali, avec Didi, son assistante personnelle. L'histoire de Gail est un conte de fée qui l'a amenée à réaliser son rêve avec Amma. Elle lui consacra son souffle de vie, sa santé physique et mentale, son cœur et son corps, et accepta même de subir diverses formes d'abus en s'efforçant d'être fidèle à son inspiration, luttant contre toutes les difficultés et les obstacles sur son chemin, déterminée à élever son âme, à servir et aimer. Tout cela, bien au-delà du raisonnable, croyant au-delà de toute croyance, s'accrochant à chaque fibre d'énergie et d'espoir qui lui restait dans les pires moments, restant parfaitement honnête et fidèle à son idéal, à celle qu'elle aimait et à ceux qui aimaient celui qu'elle aimait. Jusqu'à ce qu'elle se rende compte, au bord de l'effondrement physique, nerveux et psychique, que malgré son incroyable persévérance, offrir sa vie de cette façon n'avait plus de sens car elle ne faisait en réalité que se détruire. C'est en effet vers la fin, lorsqu'elle prit enfin ses distances et qu'elle eut besoin d'une retraite, qu'elle se rendit compte que même en continuant d'aimer Amma, elle commençait à distinguer l'amour de son idéal d'instructrice et l'amour de son bourreau : "Mon monde était en train de s'effondrer lentement mais sûrement, et pourtant ce fragment de distance me fit réaliser que je l'aimais toujours. Je l'aimais même si ce que j'aimais ressemblait plus à la personne que je croyais à l'origine qu'elle était. Cette prise de conscience ajouta un élément de tourment nouveau à mon désir croissant de fuir l'ashram." (Holy Hell, ch. 22, p. 328)
Gayatri fut un modèle pour nous tous, même pour les disciples les plus anciens, une inspiration, un exemple brillant de dévouement, de service, d'amour, d'abnégation tout en gardant un bon sens affuté et solide, une bonne expérience de l'humain, un sens indéracinable de l'humour et l'autodérision, et la confiance en soi d'une Australienne robuste qui ne s'en laissait pas compter. Nous autres, les membres masculins du premier cercle de disciples, savions parfaitement ce qu'il lui en coûtait de servir Amma de si près. Fondamentalement, tout ce que nous ressentions pour ce qu'elle traversait était du respect et de la sympathie. Elle n'eut aucun réel soutien face aux mauvais traitements systématiques que son maître lui faisait subir si ce n'est celui d'une personne, Balu, plus tard Swami Amritasvarupananda, qui s'est malheureusement avéré être également un persécuteur d'un autre genre. Malheureusement, son maître ne sembla pas reconnaître les nombreux signes du point de rupture imminent qui se profilait. Quand il n'y eut plus rien à sauver et que Gail s'échappa de son enfer, ce fut un choc total pour Amma et son entourage. Elle était inconsolable, tout comme ses fils spirituels. Le départ de Gail fut vécu comme une perte énorme qui laissa un vide béant derrière elle. Mais il était trop tard. Les dégâts étaient là, accumulés depuis des années, au-delà de ce qu'une personne normale pouvait supporter. Certains des ex-frères considéraient sa persévérance au-delà de l'imaginable et même tout à fait héroïque.
Puis vint la campagne de calomnie contre elle, dont je donne des détails dans le livre au ch. III.6. Pendant vingt ans, tu laisses quelqu'un te servir personnellement, plus intime et plus confiant que ta propre mère, tu la laisses cogérer l'ashram, puis du jour au lendemain, tu la calomnies et fais croire au monde qu'elle est malade, mesquine, vindicative et profiteuse. Va comprendre !
Amma perdit en Gail un élément clé de son message au monde. L'exemple que représentait Gail dépassait tous les discours. Il est vrai qu'elle n'était pas exempte de défauts. Mais qui celui ou celle qui l'est jette la première pierre ! À bien des égards, aucun d'entre nous du premier cercle de disciples ne lui arrivait à la cheville.
Plus dans mon livre !
Et lisez le sien ! Le lien vers le livre de Gail est dans son blog : https://gailtredwell.com/